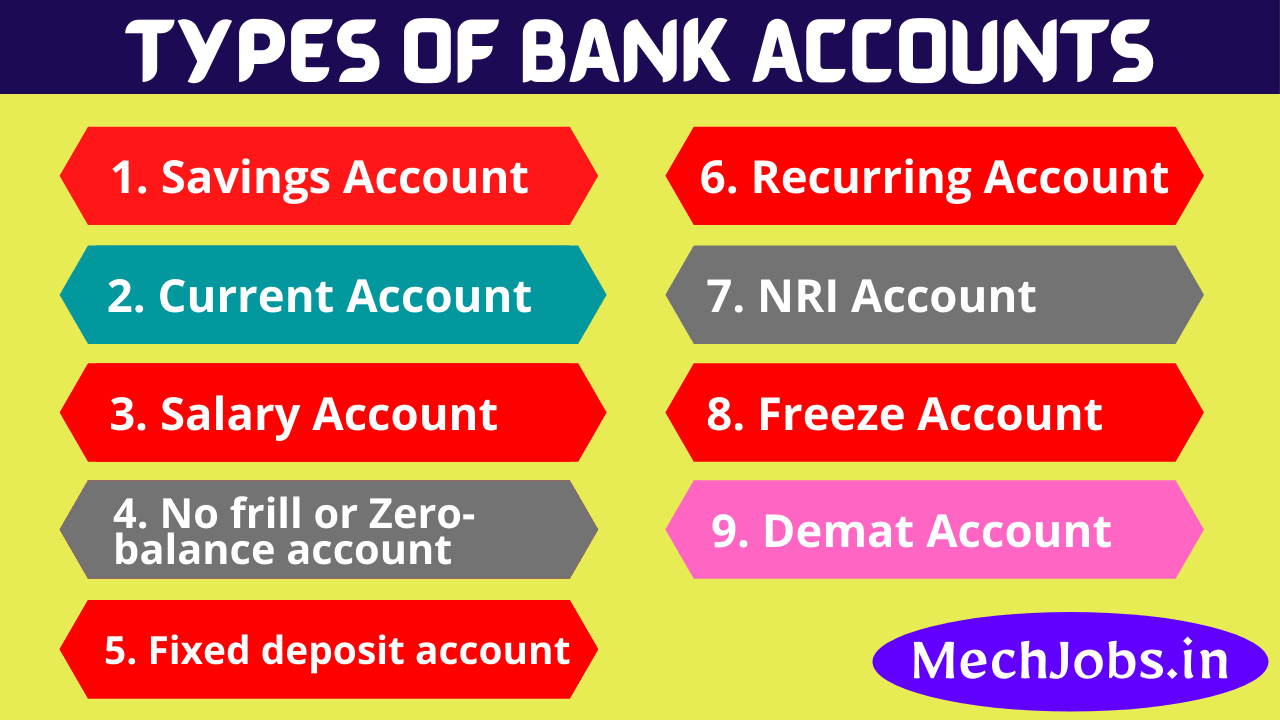 Types of Bank accounts:-
Savings account
Current account
Salary account
No frill or Zero-balance account
Fixed deposit account
Recurring account
NRI account
Freeze account
Demat account
1. Savings account:
A savings account is a very basic type of bank account that can be opened in almost all banks i.e. Private as well as public sector banks. It is used for saving purposes. Bank pays interest against the deposited amount at a certain rate. To open a saving account, the following documents generally are required:-
Identity proof with photograph i.e. pan card, Adhar card, passport, driving license, voter card, ID card of any govt authority.
Address proof i.e. Utility bill such as Telephone bill, water bill, electricity bill, ID having address such as Aadhar card, driving license, passport, voter card, etc.
There are some pros and cons of saving bank accounts which are as given below:-
Pros
There is no restriction on the upper limit of money deposits.
It can be opened by any individual with minimum documentation.
The facility of a joint account is also available in the savings account.
Account holder earns interest on the money deposited in his account at a certain rate.
Internet and Mobile banking are provided by the banks to their customers at free of cost.
Usually, 1 cheque book is provided by the bank free of cost, for payment purposes to any person/party.
ATM/Debit card is provided by the bank for withdrawal money at any time.
The account holder is generally notified for every transaction via SMS, by their bank.
Cons
The account holder has to maintain a minimum account balance, otherwise, the bank may levy a penalty. The amount of penalty varies from bank to bank.
However there are no restrictions for depositing the money, but there is a certain restriction or limit for the withdrawal of money from the account.
The bank may charge some amount to avail the facility of more than one cheque-book.
On issuing of ATM /Debit card, a certain amount of charges is deducted annually by the bank.
2. Current Account:
The current account is a type of account which can be opened by any business owner, traders, cooperative societies and companies, etc., by fulfilling the terms and condition of opening a current account as per the guidelines issued by the RBI. To open a current account, the following documents are required:-
Proof of Registration of Firm
Certificate of concern authority (Regarding business)
PAN Card of the firm
Proof of Identity and Address (Proprietor)
Proof of address (Office/ shop)
Some salient features of the current account are as follows;
Pros
A current account allows their customer to transact any amount of money between two or more than two parties, multiple times in a day.
This account facilitates the overdraft facility which means that the account holder can withdraw more money than the actual balance available in the account. Thus it is very useful for businessmen to purchase more products or services in lieu of marginal money.
The current account also measures international transfers of capital.
The other services which are offered by the banks to the current account holders are Internet banking Mobile banking, SMS alerts, ATM/Debit card, Cheque-book
Cons
No interest paid by the bank on the amount deposited into the current accounts.
Several charges are levied by the banks on using facilities like the Overdraft facility.
The account holder has to maintain a minimum account balance as per the norms.
3. Salary Account:
As the name suggests, it is a type of saving account used to credit the salary from employers (or companies) to their employees on a monthly basis. The employer whether a Government or Private organization, on behalf of their respective employees, opens the salary account. There are some limitations and advantages of using such accounts.
The monthly salary and reimbursement are credited into the salary account only.
There is no compulsion for maintaining a minimum balance amount.
To open a salary account, the employer provides a letter to their employees that is requesting to open a bank account. Employees need to present that letter to the corresponding bank and the bank will open a salary account within the stipulated time.
Various credit card and loan facility is available easily with salary account.
Other bank services like Debit card, internet banking, mobile banking, Cheque book is available.
4. No-Frill or Zero Balance Account:
These accounts are meant to be open for accessing basic banking services at zero balance. There are some limitations and advantages of using such accounts are as follows:-
As these accounts give the privilege to access the basic banking services, thus it also known as 'Basic Savings Bank Deposit Account (BSBDA).
No need to maintain a minimum account balance with such accounts.
These accounts avail various government schemes like MGNREGA, Gas subsidy, KCC, pension, scholarships, etc to the labor, farmers, women, and students residing in villages and remote areas.
The account holder will get a Debit/RuPay card for withdrawal.
SMS Notification Services is Available
Internet banking and Mobile banking is available.
It can be opened in any public or private bank or at the customer service point (CSP) of any bank with a minimum document (Aadhar card & passport size photo) only.
There is a limitation on withdrawal of an amount higher than 10,000/- at a time.
The cheque book facility is generally not available with this type of account.
5. Fixed deposit account:
A fixed deposit is a type of financial instrument in which a lump sum (fixed) amount is deposited once for a fixed tenure at a certain rate of interest that is paid by the corresponding bank/NBFC (Non-banking financial company) to the depositor. The salient features of FD are as follows:-
The tenure of fixed deposit accounts varies from 7 days to 10 years and rates of interest are generally offered 6 to 7% depending on the banks. The senior citizens get an additional interest of 0.5% per Annum.
It may or may not require the creation of a separate account. It is known as a term deposit or time deposit.
Loans against FD's up to 80 to 90 percent of the value of deposits can be availed. The rate of interest on the loan could be 1 to 2 percent over the rate offered on the deposit.
Investing in a fixed deposit earns a higher interest rate than depositing money in a saving bank account.
The bank or NBFC cannot allow withdrawal of the amount before the maturity date. Although some banks/NBFC allows withdrawal before the maturity date at the cost of a lower interest rate.
6. Recurring Deposit account (RD):
A recurring deposit account is a unique term deposit account, offered by banks or NBFCs, in which any person can deposit a fixed sum of money periodically (every month or quarterly) for the stipulated tenure to earn a higher interest. The salient features are as follows:-
The sum of money could be as low as Rs 100 and tenure varies from 6 months to 10 years.
Recurring Deposit schemes allow customers with an opportunity to build up their savings through regular monthly deposits over a fixed period of time.
It doesn't allow any change in the tenure and amount fixed in between otherwise a penalty shall be imposed.
In addition, RD gives an interest higher than a normal savings account and somewhere close to fixed deposits depending on how long you want to invest your money. However, senior citizens are rewarded with additional (generally 0.5%) interest rates.
7. NRI Accounts:
This type of account is mainly for those Indian people who are not residing in India. The NRI accounts can be both fixed or saving types of accounts. There are mainly three types of bank accounts available for a non-resident Indian (NRI), these are as follows;
I. Non-Resident Ordinary (NRO) Fixed or Saving Accounts;
The Non-Resident Ordinary (NRO) accounts are simply savings or fixed accounts operated in Indian currency (Rupee) by the Non-resident Indian (NRI).
The funds automatically convert to Indian Rupee (INR) at the prevalent exchange rate.
The NRIs utilize such accounts to put down their money in India.
Besides, they can also pay their bills, installments, and rent of foreign countries from NRO accounts.
The interest earned from the deposits in NRO accounts is taxable.
II. Non-Resident External (NRE) Fixed or Saving Accounts;
The NRE accounts are similar to NRO accounts and money deposited to these accounts are converted to INR at prevailing exchange rates.
Such accounts are used to deliver foreign earnings in India.
The NRE accounts are maintained in INR.
However, the interest earned as well as principal amount both are transferable and exempted from taxes as well.
III. Foreign Currency Non-Resident (FCNR) Accounts;
The FCNR is maintained in respective foreign currencies.
These accounts are exempt from taxes in India.
8. Demat Account:
The  Demat Account is meant to be open for investors to hold their shares in an electronic form, thus it is named a Dematerialized account. The salient features of the Demat account are as follows:-
The Demat account provides the facility to hold the money of investors in Shares, Bonds, Mutual funds, Government securities in dematerialized form.
The Demat account allows the investor to transfer their shareholdings.
Dematerialization and rematerialization are to be done by Demat account
It is a safe, secure, hassle-free paperless process for share trading.
It avails benefits associated with corporate actions i.e. dividends, bonus, right-issue over the various securities held by the investors, directly to their bank accounts.
Documents required to open a Demat account are as follows:-
I. Proof of income
Any of the following documents can be considered as proof of income;
an ITR (Income Tax Return),
Form 60/Salary Slip
Asset-Ownership
II. Proof of identity
AADHAR CARD, VOTER CARD, PASSPORT, PAN-CARD, or DRIVING-LICENSE can be considered as proof of identity. Anyone document among this list can be used for identity proof.
III. Proof of address
Any one of these considered as proof of address are ELECTRICITY BILL, TELEPHONE BILL, RENT AGREEMENT, FLAT MAINTENANCE BILL.
9. Freeze account:
The account is said to be freeze when all the open transactions are cancelled by the bank. The cheque presented with respect to the account will be dishonored. The bank account may be frozen for the following possible reasons:-
The Bank may freeze any account if they suspect illegal activity such as money laundering, terrorist financing, or writing bad cheques.
The government can request an account freeze for any unpaid taxes or student loans.
Creditors present the judgment of the court to the bank, against the account holder for any unpaid debts, will urge the bank to freeze the account.
Bank has the authority to freeze the account if the account violates the norms as per the RBI.
Although, the bank doesn't allow withdrawal from these accounts, but money can be deposited via cash or online.
This article is written by;
Mr. Abhishek Chaturvedi
B.Pharma & MBA
(Former Production Officer – Lupin)
Email: [email protected]